If Ripple is the best friend of banks into the cryptocurrency space… why are they not using XRP? Despite the myriad of partnerships with different insitutions, up to today not a single significant bank has integrated XRP into their daily operations. The reasons for this could range from safety concerns to lack of blockchain understandment among the financial institutions. Here follows a probe into the current relationship of XRP and Ripple with the banks, with the intention of clearing up the possibility that this digital asset ever becomes a central part of the global banking system.
What are the main differences between Ripple, XRP, xCurrent and xRapid?
As per Ripple's website, XRP is a digital asset, supported by the open source blockchain technology XRP ledger. Meanwhile, Ripple is a company which owns more than 60 billion out of the maximum supply of 100 billion XRP, controlled by its board, founders and employees.
Ripple uses XRP and the XRP Ledger in products such as xRapid, a settlement system for cross border payments that outdated xCurrent from a tech perspective, another of their products that can be used for the same purpose of processing transactions but that does not strictly makes use of any blockchain.
There has been some considerable debate about whether if xCurrent is blockchain or not. Many of the main arguments can be found on a Reddit thread where this post sums up well some of the main views expressed:
xCurrent is an ILP solution, enabling efficient communication between ILP compatible ledgers. So every bank that joins RippleNet must create and ILP ledger on their side and connect it to their system (internal ledger). So no, it does not use blockchain but it requires the bank to prepare itself for the RippleNet, and that is the hard part. After they are compatible with RippleNet they can also use the blockchain liquidity tools provided by Ripple and without much hassle solve another set of problems which the ILP itself can't solve. So first the bank must adapt their system to the internet of money, with that they get bidirectional messaging and quick synchronization with their existing partners, but they do not actually move money. They still need nostro/vostro accounts, and that's where xRapid and the xrp ledger come in. Even if they get only the first part it's a big improvement, but this is what they are comfortable with at this moment. The revolution comes when they make the second step, which frees them from locking money in many places or paying big correspondant bank hefty fees for doing that for them. This is how you give power to the smaller players in the remittance business, if they make the first step their business becomes "cleaner" and faster, when they make the second step their business becomes much cheaper and they no longer depend on the few big players that are now in charge.
However, from the side of adoption, xCurrent is still more popular than xRapid among financial institutions. Regardless of the need for setting up nostro – vostro accounts, a duplicity that the use of XRP by xRapid eliminates, most of the large banks and companies who are using Ripple prefer to stick with the older, non-blockchain system, with no implicit benefits for the rest of XRP holders.
What are financial institutions into Ripple for? And what banks are using Ripple today?
The duplicities and hurdles that payment processing systems such as SWIFT set in the ways of cross border settlements are the main reason for banks the opt for testing Ripple's solutions. The fragmentation of the payment network between the different institutions that participate in the transactions result in inefficiencies that have a direct repercussion on users, with high fees and slow processing times. 
Read more: XRP spikes nearly 10% after SWIFT partners with R3
Further, as cash disappears from most daily transactions, the traditional payment network is already facing scalability issues as the global demand for fast electronic payments grows exponentially. 
Ripple advertises some of the advantages of their product for banks and other institutions who require payments as a part of their core operation with the following chart:
The purported savings per transaction increase as the total number of transactions decreases, and the value of transactions increases, as it can be seen comparing both charts: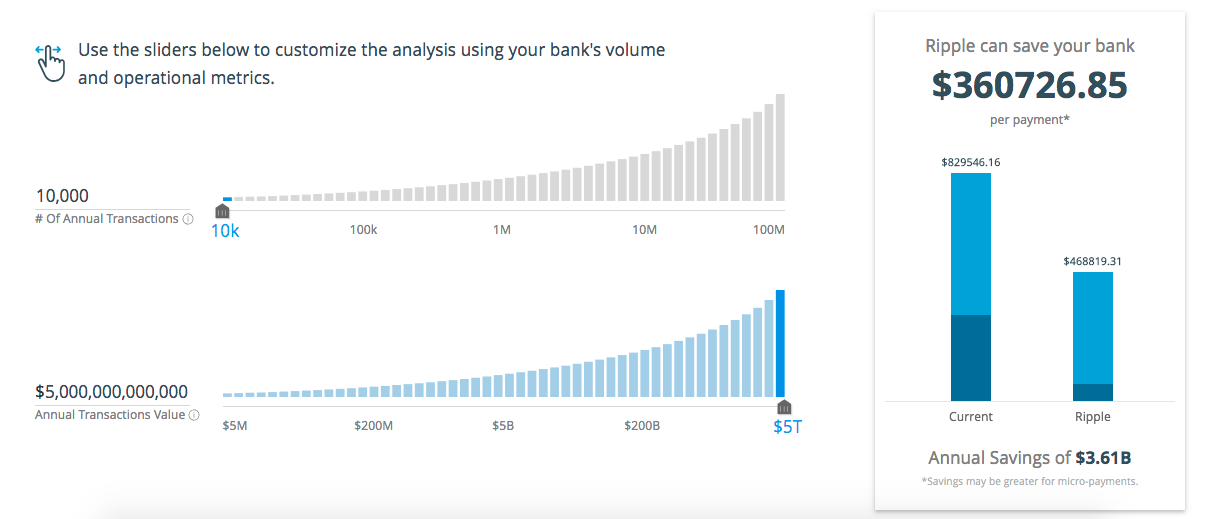 Many financial institutions have already partnered with Ripple, convinced of the potential benefits that the systems developed by the company could bring up. And there are some big players in the list. Perhaps the most relevant of them all is the MFUG bank, Japan's largest one by total assets and the fifth one on a worldwide level. Santander, Spain's largest bank and 16th worldwide, is another whale swimming into Ripple's lake.
Other highlighted names on the RippleNet are Itaú (largest Brazilian bank, top 100 worldwide), Standard Chartered, American Express or MoneyGram.
Ripple is reaching as far as they can while attempting at spreading their name inside the financial industry. The Global Payments Steering Group (GPSG) was formed in 2016, including first-tier banks such as Bank of America Merrill Lynch, Unicredit, Royal Bank of Canada and Westpak, together with the previously mentioned Santander and Standard Chartered.
However, the GPSG is not a payments processing system, but a sort of policy group in charge of creating Ripple transaction rules and other pending tasks surrounding the potential future integration of the company with the banks. So, there are no direct benefits for XRP holders from this, either. 
What could make banks change their mind and go into XRP or xRapid?
David Schwartz, CTO at Ripple, has already faced this question in a number of occasions, as quite understandably many XRP holders are curious as to what might trigger such an integration of their token.
On a reply to a Quora.com question, the Ripple CTO expresses that the currently most likely catalyst for the mass adoption of XRP by the banks, would be its use as settlement asset for corridors that start and end with different fiat currencies. Even though Schwartz does not say it out loud, it seems to be as if the main requirement for this to be a widespread use case, is to integrate more banks in the RippleNet, so that there are no technical obstacles in settling this payments using XRP.
He is not the only one bullish about the possible integration of XRP with the banks; Chirstine Lagarde herself, Managing Director of the IMF, recently cited Ripple (and Circle too) as companies leading the way for banks to get their businesses up to date with the latest available technological developments.
Read more: IMF praises Ripple and Circle, says banks will be 'cannibalized'; What does SWIFT partnering with R3 mean for Ripple and XRP?; Ripple CTO on XRP decentralization and its difference with BTC & ETH
Follow Chepicap now on Twitter, YouTube, Telegram and Facebook!
(Excerpt) Read more
Here
| 2019-02-12 23:34:08