Summary

Da Hongfei and Erik Zhan created AntShares that was later renamed to NEO in 2017.
NEO is blockchain platform, completely autonomous and uses smart contracts for the digitalisation of digital assets.
Smart economy system is a term that describes NEO's agenda, combining digital assets, digital identity, and smart contracts into one equation.
NEO is written in one of the most common computer languages, which means that developers do not need to have additional knowledge of other complicated languages to digitise assets.
NEO's cryptocurrency is usually exchangeable with other cryptocurrencies, though not so much with fiat currencies.
NEO is a China-based network and cryptocurrency that is based on a blockchain technology. Da Hongfei and Erik Zhan launched AntShares in 2014, which was later renamed to NEO in 2017.
DO READ: What is a cryptocurrency and how to use it?
The idea behind creating NEO was to support the advancement of digital assets, to bring blockchain technology closer to the people. Most importantly, the digital assets development wanted to be done through the automatised system of smart contracts. With that in mind, the priority in the future for NEO is to make a smart economy system that would be based on the NEO's network.
NEO was written in C++ and JavaScript computer languages and has been improving its technology so the network would not be exposed to criminal attacks. 
Essentially, NEO describes their smart economy system idea with the following "equation":
Digital Asset + Digital Identity + Smart Contract
=
Smart Economy
Source: Kalkine Media
Digital assets are converted from the traditional forms using blockchain technology and smart contracts, while staying decentralised, crystal clear, truthful, and traceable. The conversion process is completely free from any intervenors and additional costs.
Both digital and physical assets can be used on the NEO's network. The only thing that needs to be done is linking them together, allowing physical assets to be converted to its digital counterpart. Each asset that is circulating in the system is legally protected and have a legit digital identity.
When it comes to the digital identity, it is exactly what it says – the identity involves information about the user or the organisation that "lives" in the NEO system. Those identities are well-encrypted by fingerprints, facial and voice recognition, as well as SMS.
Smart contracts help in communication and transactions between both parties on NEO, with the complete autonomy from external institutions. All transactions on NEO are irreversible, as well as transparent and visible. The most convenient thing about smart contracts is they are, as previously mentioned, written in C++ and JavaScript that are one of the most common computer languages. Because of that, developers would not need to make any adjustments for learning other complicated languages.
As most other cryptocurrencies, NEO is a blockchain-based network that protects the privacy of its users. The technology serves as a form of a bridge between blockchain and the digital identity, allowing physical assets like cash to be digitalised on the network. NEO also supports peer-to-peer system.
ALSO READ: Five Peer-to-Peer (P2P) Lenders in Australia
NEO wants to make blockchain a more common way of doing transactions. It targets to do so by letting other decentralised apps to be created on the network, while users can use smart contracts on the blockchain technology.
The technology is also cost-effective, using Delegated Byzantine Fault Tolerance (dBFT) consensus mechanism. It also offers lesser power costs.
A blockchain platform, NEO aids its own cryptocurrency.
Converting NEO to fiat currencies may be challenging, as not all systems support that conversion. It is a lot easier and more supported to trade it for other cryptocurrencies, such as BTC, ETH or LTC. More than 40 exchange markets support NEO as a currency.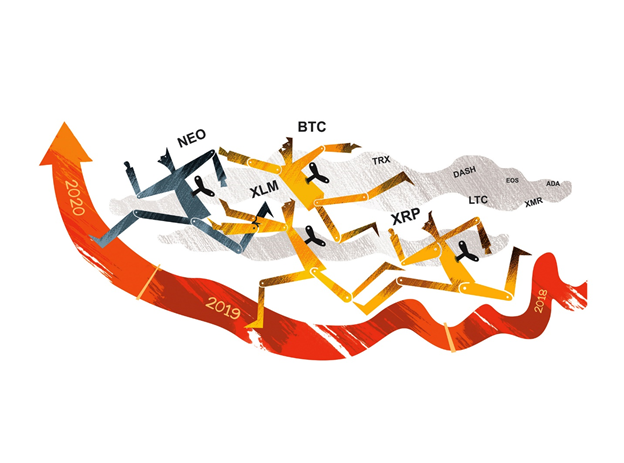 Source: Kalkine Media
The most recommended way of buying NEOs is via Coin Switch or similar platforms, depending on what rates feel the best.
Purchased NEOs can be stored in digital wallets that are either downloadable or desktop.
DO READ: Cryptocurrency usage booms amid COVID-19 crisis
NEO is special because of Onchain, a technology company that was launched in 2014 after NEO's founders got recognised for their idea of the completely private blockchain. Onchain is trying to find the best blockchain solutions to clients who are interested in implementing blockchain in their systems.
Both Bitcoin and Ethereum work similarly as NEO, while Onchain targets the private blockchain so the industry could have more solutions to choose from.
Must Read; What is Ethereum?
Distributed Networks Architecture (DNA) is the most famous Onchain product that aids businesses while creating blockchains using digital assets. The product is believed to be able to solve problems in both public and private blockchain systems.
The number of businesses that are implementing blockchain into their systems are growing every day, so NEO and Onchain are trying to enable interoperability.
(Excerpt) Read more
Here
| 2020-09-11 18:49:08