Ethereum (ETH) and other altcoins are at a higher risk now that the stock market has seen massive decline in the past two days. Investment in cryptocurrencies continue to be risky and as investors become more risk averse, the altcoin market is expected to see a massive capital flight in the weeks and months ahead. The coronavirus situation is not just a one-time event like a political event, for instance an attack on oil fields in Saudi Arabia or the killing of Qassem Soleimani. This is different as it is a growing development that worsens by the day. 
Wall Street is concerned for all the right reasons and people in the crypto community that pretend to live in an alternative wonderland will soon feel the gravity of the situation as the big players pull out their investments. ETH/USD has faield so far to break past the support turned resistance at $223. As long as it remains below the 61.8% fib level, the probability of a decline down to the 38.2% fib level remains very high. This would pull the price of Ethereum (ETH) below the psychological support of $200 which would seriously impact the bullish resolve.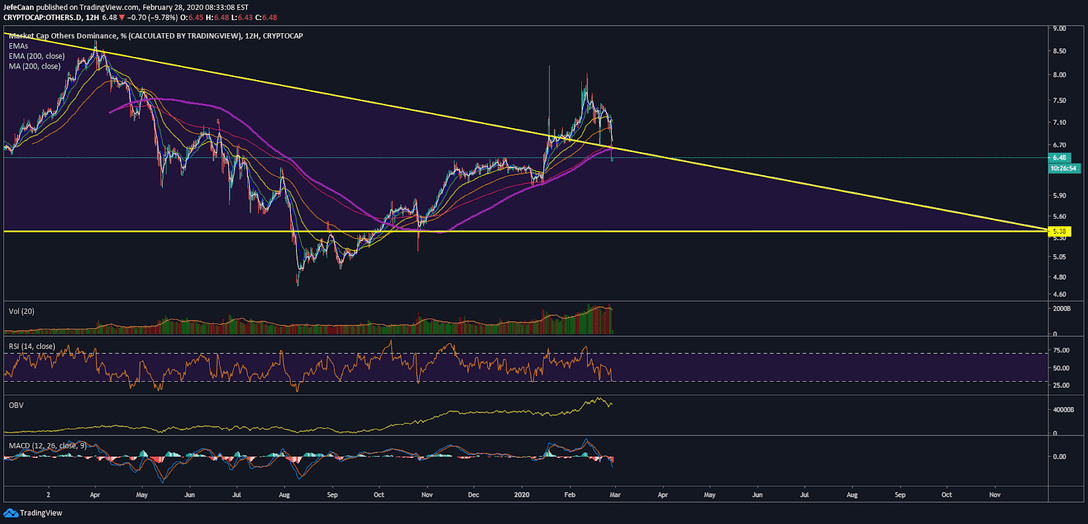 The altcoin market risks significant further downside now that we have seen Altcoin dominance (Others.D) break below the 200-moving average on the 12H time frame. This is a big deal as it means that the uptrend that started in August, 2019 in the altcoin market is now likely coming to an end. This could trigger a major sell-off in the near future as the big players realize that the show is over. Retail traders will continue to try and catch the knives as they buy the dips when their favorite altcoins crash only to realize that they keep on falling further. 
Ethereum (ETH) and the rest of the altcoin market is still quite overvalued at current prices. The market cap of a lot of cryptocurrency projects makes no sense. This would be the first time that we would see a major correction in the altcoin market. We have seen bear markets in Bitcoin (BTC) before but this would be the first time it happens for a lot of altcoins and ICO projects. The projects that have the best products and dedicated teams would survive but a large number of useless tokens would be wiped off the market. This is a good development considering it will cleanse the market and prepare it for investors with stronger hands and long-term interests to enter the market and grow this industry. 
(Excerpt) Read more
Here
| 2020-02-28 22:01:42