Yesterday, we saw a short term recovery above the USD 3,600 level in bitcoin. However, BTC/USD failed to retain strength above the USD 3,650 level and later reacted to the downside. The main reason for the recent bearish moves was the postponed Ethereum Constantinople hard fork. ETH/USD dipped more than 6% and traded below the USD 125 support level. Ripple price also trimmed its recent gains and declined below USD 0.325 before buyers appeared near the USD 0.320 level. The current (UTC 08:20 AM) price action is slightly bearish, suggesting range moves in bitcoin and altcoins in the coming sessions.
Total market capitalization
Bitcoin price
There was a rejection pattern formed near the USD 3,670 level and bitcoin price declined below USD 3,600. BTC/USD even traded below the USD 3,550 level before it found support near USD 3,520. The price is down around 2% and it seems like it may struggle to move above the USD 3,600 and USD 3,650 resistance levels.
On the downside, the USD 3,520 level is a short term support, below which there is a risk of downside break below the USD 3,500 and USD 3,480 support levels in the near term.
Ethereum price
Ethereum price made a sharp turn after the Constantinople hard fork was delayed. ETH/USD dipped below the USD 125 and USD 120 support levels. The pair tested the USD 115 support and later corrected a few points.
The price is currently down around 6% and it is facing a lot of hurdles on the upside near the USD 122 and USD 125 levels. On the downside, the USD 115 level is a strong support followed by USD 112.
Bitcoin cash, eos and ripple price
Bitcoin cash price failed to break the USD 135 resistance and declined below the USD 130 support. BCH/USD is currently trading near the USD 125 level, with support at USD 122 and USD 120. The main resistances are USD 130 and USD 135.
EOS is still above the USD 2.25 and USD 2.30 support levels, but it is facing a lot of offers near the USD 2.45 and USD 2.50 levels.
Ripple price dipped below the USD 0.330 and USD 0.325 support levels to enter a bearish zone. XRP/USD tested the USD 0.315 support and recovered above USD 0.320. However, it must settle above USD 0.325 and USD 0.330 for a sustained upward move.
Other altcoins market today
Despite recent bearish moves in bitcoin and ethereum, a few small cap altcoins gained more than 8%, including AE, WAX, STRAT, POWR and ZIL. Out of these, AE gained more than 22% and WAX is up close to 21%.
To sum up, the recent decline in bitcoin price below USD 3,600 shifted the market sentiment. To start a fresh bullish wave, the price must settle above USD 3,600 and USD 3,650. If not, there is a risk of more losses in BTC, ethereum, ripple and other altcoins lower in the near term.
_____
Find the best price to buy/sell cryptocurrency: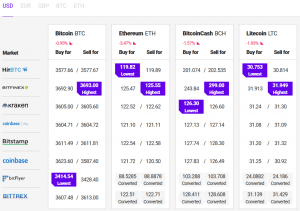 (Excerpt) Read more
Here
| 2019-01-16 09:03:00