After a short term downside correction, bitcoin price rebounded above USD 3,830 and USD 3,850. BTC even climbed above USD 3,880, but it struggled to gain momentum above the USD 3,900 resistance level. It is currently consolidating below USD 3,900 and it seems like buyers are sighting an upside break in the near term. Ethereum remained well below the USD 135 resistance and it is currently (UTC 08:00 AM) testing the key USD 132 support. Ripple price climbed higher and settled above USD 0.310, with a positive angle.
Total market capitalization
Bitcoin price
There were mostly range moves in bitcoin price above the USD 3,830 and USD 3,850 support levels in the past two sessions. BTC made an attempt to climb above USD 3,900, but it failed. Having said that, the price action suggests that there are high chances of more gains above USD 3,900 and USD 3,920 in the short term.
On the other hand, if there is a downside reaction, the USD 3,850 level may act as a support. Any further declines could take the price towards the key USD 3,800 support level.
Ethereum price
Ethereum price struggled to break the USD 135 resistance and declined recently towards the USD 132 support. If there are more losses, ETH could revisit the key USD 130 support level in the next few hours.
On the upside, the USD 134 and USD 135 levels are important hurdles. Should there be an upside break above USD 135, the price will most likely climb above the USD 140 resistance level.
Bitcoin cash, eos and ripple price
Bitcoin cash price settled below the USD 130 support and it is currently consolidating near the USD 128 level. If BCH/USD needs to climb higher, it must break the USD 130 and USD 132 resistance levels. If not, it may revisit the USD 125 support.
EOS struggled to clear the USD 3.70 resistance and corrected lower. However, the USD 3.60 level is acting as a support and it seems like the price may trade higher towards the USD 3.70 and USD 3.75 levels.
Ripple price is slowly moving higher and it is currently placed above the USD 0.310 support. XRP/USD must break the USD 0.312 resistance level to stage a rebound towards the USD 0.314 and USD 0.315 resistance levels. On the downside, the USD 0.310 and USD 0.305 levels are decent supports.
Other altcoins market today
In the past few hours, many small cap altcoins rallied more than 10%, including CRO, XZC, MXM, KMD, BCD, VET, ENJ, KCS, AION, ETN, DGB, BCN, DASH and QASH. Out of these, CRO rallied more than 40% and XZC is up close to 34%.
Overall, bitcoin price is trading with a positive angle above the USD 3,850 level. However, BTC buyers need to gain traction above USD 3,900 and USD 3,920 to set the stage for a solid upward move towards USD 4,000 and USD 4,040 in the coming sessions.
_____
Find the best price to buy/sell cryptocurrency: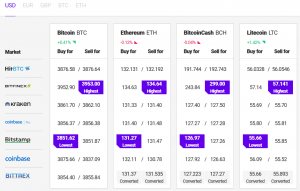 (Excerpt) Read more
Here
| 2019-03-13 08:56:00