Altcoin dominance is at a key decision point. The descending triangle on the monthly time frame shows us how if this time altcoin dominance declines, we might be looking at the first time ever it enters a bear market. We have already seen the monthly candle give up most of its gains and the probability of a decline much lower has increased significantly now. It is important to note that if Altcoin dominance (Others.D) enters a bear trend, the cryptocurrency market would be in a lot of pain. This would be a scenario where we would see many altcoin projects go belly up and confidence in the cryptocurrency would reach 2014 levels where most investors thought that it was the end of Bitcoin and other cryptocurrencies.  
At this point in time, it does not feel at all that investors are thinking that Bitcoin or other cryptocurrencies might experience pain in the near future. The reasons are not the same this time. In 2014, investors thought it was a scam but this time the fears are different for those that want to see them. We now have cryptocurrencies facing the threat of central banks coming to the rescue of fiat currencies by digitizing everything and outlawing cryptocurrencies. This is a very concern that is being ignored at the moment by the majority of the market amidst the halving FOMO. I'm not saying it would have long lasting impact but I am saying that a move like this could deal a terrible blow to the market that the majority of retail traders are not factoring in.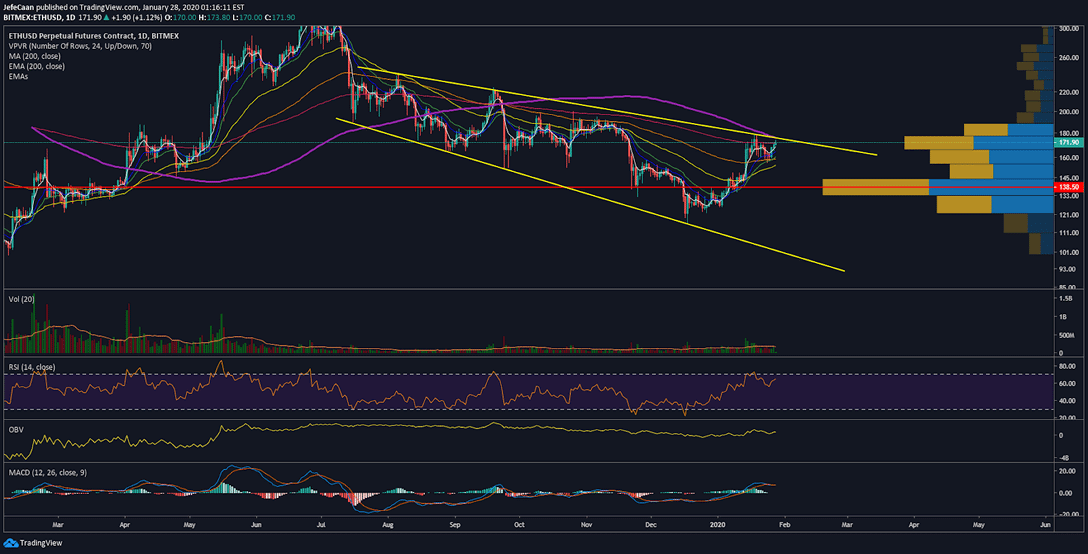 A simple glance at the daily chart for ETH/USD shows us that the price is now declining within a broadening descending channel. If it keeps on declining in this manner then we have a long way to go before this bear market comes to an end. The 200-day moving average is what currently stands between the ongoing bear market and a potential bull market. So long as the price remains below it, we have no reason to be bullish. 
It is important to realize though that just a simple break or close below a certain level is of little consequence. Follow through is more important because moves that just pushes the price over a certain level can be misleading and they most often are especially in this market. We have seen in the case of BTC/USD that the price shot past the 200-day moving average and closed above it for more than a week until it declined aggressively from there to form a new low. So, for now the trend remains bearish and instead of trying to FOMO into the market, we should be thinking about what would happen if altcoin dominance enters a bear market. 
(Excerpt) Read more
Here
| 2020-01-28 22:00:40