While Bitcoin continues to test $5k range, altcoins continue to follow, but there are a few making their own waves, regardless of the peaks and troughs of Bitcoin, indicating that the rest of the altcoin market may be ready to pop off… so, here are 3 coins proving that alt season is imminent. 
Alt season following a Bitcoin pump is as synonymous as summer following spring; the two often go hand in hand thanks to increased speculation, and new money flowing into BTC in order to redirect into more profitable altcoins.
This has been noted time and time again by the social circles of the crypto community, who, by and large, have been hinting at this phenomenon…  
A step by step guide on how to trade altcoins in the coming weeks:

1. Print out every Binance altcoin ticker.

2. Cut out each ticker individually.

3. Attach each ticker to a dart board.

4. Throw dart at dartboard.

5. Buy the altcoin that the dart pierces.

— UB (@CryptoUB) April 1, 2019
So, is alt season actually starting?  
For some cryptocurrencies, it appears so, yes.
While we have the usual correlation towards the Bitcoin trend we can also see 3 distinct altcoins moving in their own right.
The first of which needs no introductions:
Dogecoin (DOGE)
Dogecoin (DOGE) has forever been the arbiter of alt season, traditionally pumping for no real reason around times of bullish action. However, this plucky coin has recently found a friend, and briefly, a CEO in Elon Musk, propelling it to new heights thanks to several endorsements from the Tesla CEO.
BREAKING: @elonmusk became the CEO of Dogecoin and has already stepped down. 🔥 pic.twitter.com/CHHhe7HYWN

— Pomp 🌪 (@APompliano) April 2, 2019
Currently, DOGE is citing a 24-hour increase of 19.37%, but has made a monumental rise of over 100% since it first pumped on the first of April:
Next up:
IOST
IOST is another cryptocurrency currently bucking the Bitcoin trend, carving its own path and hinting to an alt season. Currently up 18%. IOST has marked an impressive rise of 55% since its initial pump on the 1st of April.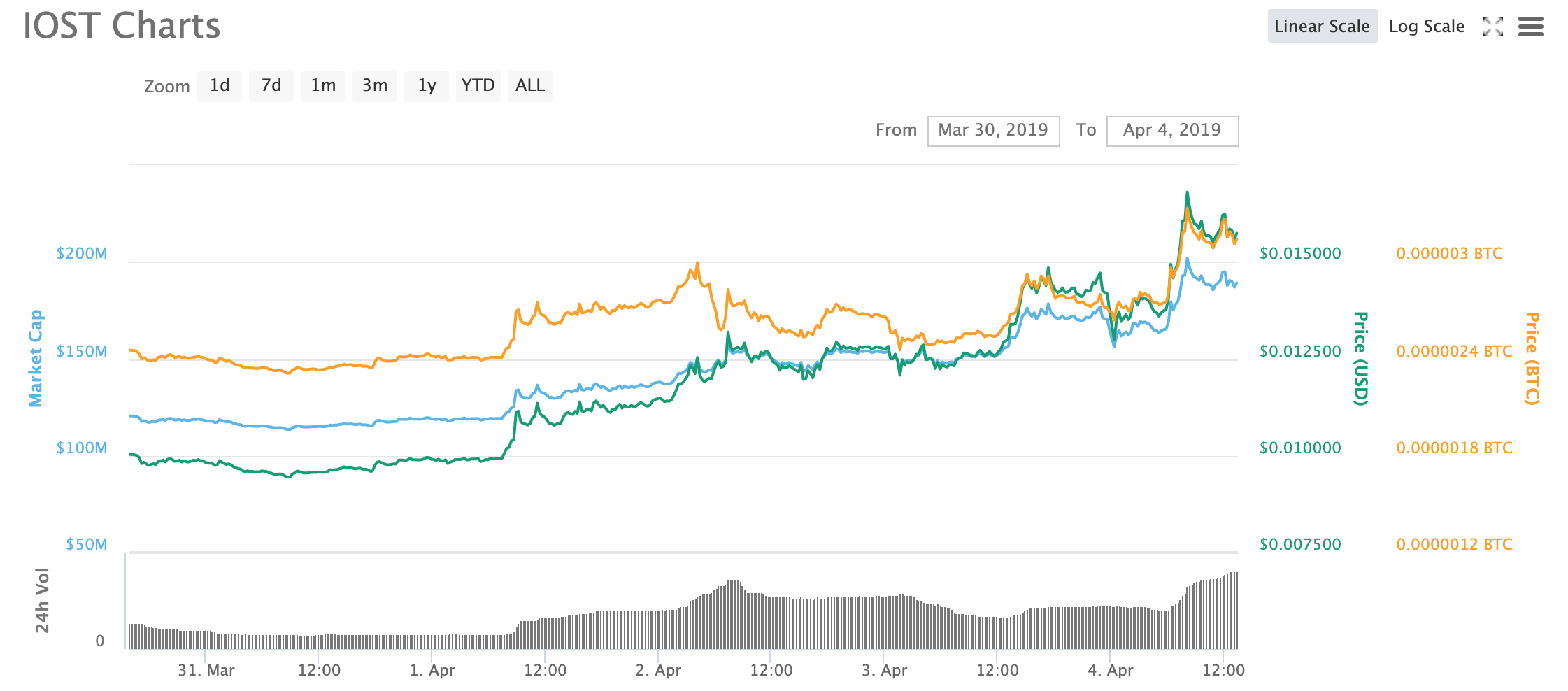 This rise marks a record high for IOST in 2019, reaching levels not seen since September last year.
According to Jimmy Zhong, founder of IOST, this latest move was catalysts thanks to investment from BlockGroup, a Chinese crypto investment firm with over $200 million under management; who were apparently impressed with IOST's performance…
The second project BlockGroup (@blockvcfund 's parent company) M&A crypto $200M fund invested in is @IOStoken @jimmyzhong_iost. Kevin Hsu, Partner at BlockGroup, said that IOST is an ultra-fast, decentralized blockchain project, achieving both security and scalability. pic.twitter.com/LIP9ygbl87

— BlockVC (@blockvcfund) April 1, 2019
Last but not least:
Bitcoin cash (BCH):
While not a small cap cryptocurrency like the rest in the list, BCH has seen a meteoric rise over the past few days, truly forging its own way regardless of BTC. BCH is currently up 8% in the past 24 hours, but is citing over 76% gains in the past 2 days since its initial pump…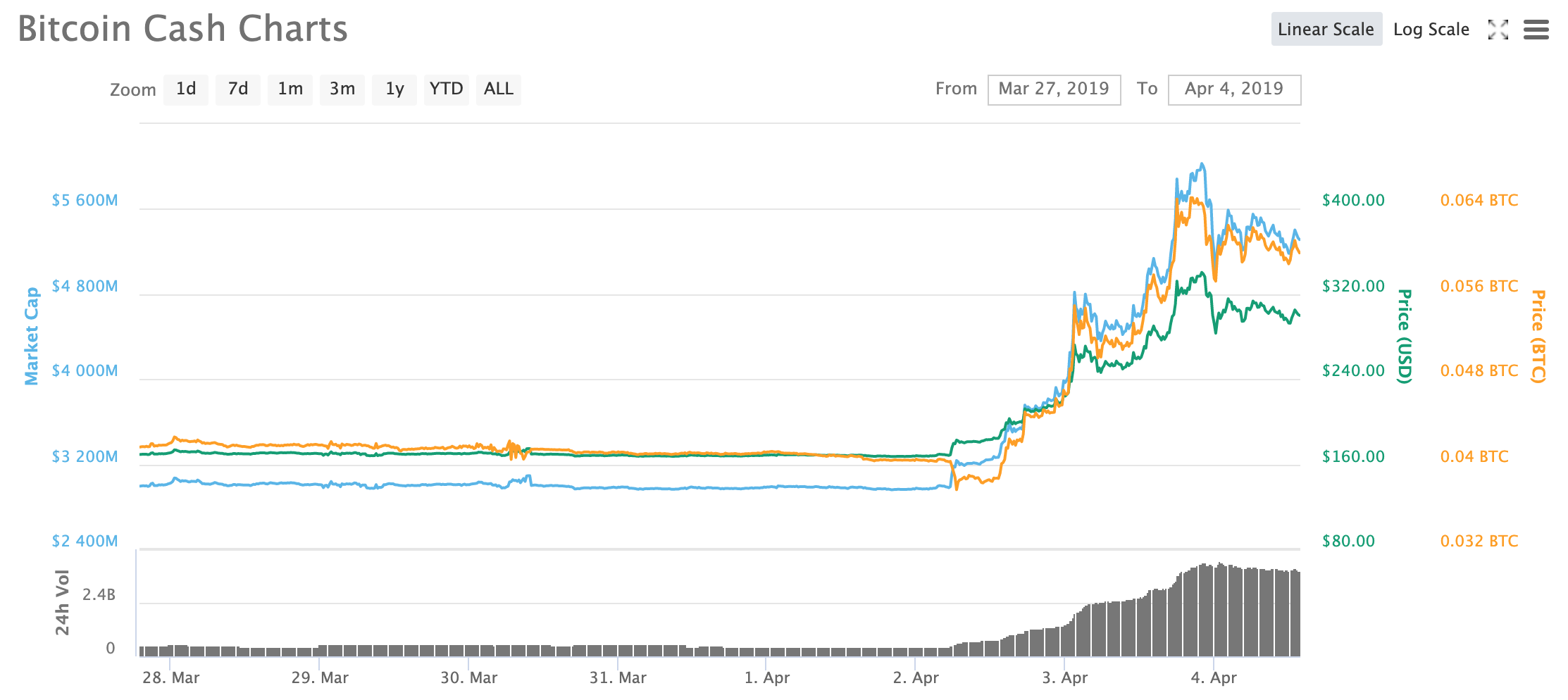 According to BCH's (un)official Twitter account, there are a plethora of reasons for this rise, (other than its correlation to the #1)
1/ Wondering why Bitcoin Cash is performing so well? Here's just a few of the amazing things happening on the BCH network right now:

Credit to /u/blockparty_sh for compiling the listhttps://t.co/arkkY9B0vD

— Bitcoin (@Bitcoin) April 4, 2019
This Tweetstorm included a recent tweet from Bitcoin (cash) Jesus, AKA Roger Ver, who relayed that BCH adoption around Japan and its vendors, was more widespread than BTC.
Japan now has more Bitcoin Cash accepting physical shops than BTC.https://t.co/nVHwj1EogG

— Roger Ver (@rogerkver) March 31, 2019
So there we have it, is alt season officially on its way? Time will tell. However, if Dogecoin and the rest of these altcoins are anything to go by then it may have already started.
Read more: These are the 3 coins to watch for April 2019 – Cryptocurrency; Traders & analysts: "Bitcoin will keep going up"; BTC to $6K soon?
Bitcoin will END Crypto Winter at $6K! What's next? Subscribe to the Chepicap YouTube Channel for more videos!


Follow Chepicap now on Twitter, YouTube, Telegram and Facebook!
Chepicap is here for you 24/7 to keep you informed on everything crypto. Like what we do? Tip us some Satoshi with the exciting new Lightning Network Tippin.me tool!
Read more: How to tip and receive Bitcoin via the Lightning Network with Tippin.me
(Excerpt) Read more
Here
| 2019-04-04 13:33:49